Good morning, Daily Direction readers!
We're watching the markets closely right now, as volatility has increased in many sectors. But that doesn't mean were lacking opportunities within the futures market!

Right now, I have my eye on light crude oil futures (CL). While the long-term direction is up, I'm hoping that the short-term direction turns down.

While that may sound counterintuitive, it's actually a good strategy. The current price within the CL trend is just too high for us to buy. So, with the long-term direction remaining up, a short-term sell-off would give us a low price for us to enter the market.

Don't forget that we want to buy low and sell high in a market with an overall bullish trend. The temporary price dips allow us to snag a market low just before it rebounds and pushes bullish again!

With the current nervousness over geopolitical issues, many investors are worried about oil supply issues.

There are concerns about possible conflicts in Eastern Europe, and new political issues are arising in the Middle East. These news stories will have an impact on oil prices, especially as things continue to develop.

If we can get a lower price within the short-term timeframe, we can execute our buy-in strategy for the CL. Until that happens, we'll watch our timeframe charts for any changes.

Now, let's review the current timeframe analysis for the CL to get a better understanding of what's happening in the market:
Daily Timeframe Analysis
The daily timeframe chart shows how the CL is trading within an up channel as it gets closer to our upper limit.

With everything that's happening in the markets and news cycle, we want to avoid buying the CL at too high of a price. If we do that, the price could correct back down toward the bottom of the channel. That's how you lose money!

Our best policy is to wait for the CL to retrace toward a lower price, knowing that the market has a good chance of pushing bullish again because of the positive long-term direction.

Waiting can be difficult when you want to grow your trading account, but we want to make informed decisions. Sometimes, that means we keep following our timeframe charts until the time comes to buy. Don't let your emotions push you!

And waiting allows us to take the opportunity to reevaluate our strategy, study, and work toward improving our overall approach to the market. Here's how I suggest you spend your time while waiting to make a trade.
Learn more about the Daily Direction Indicators here…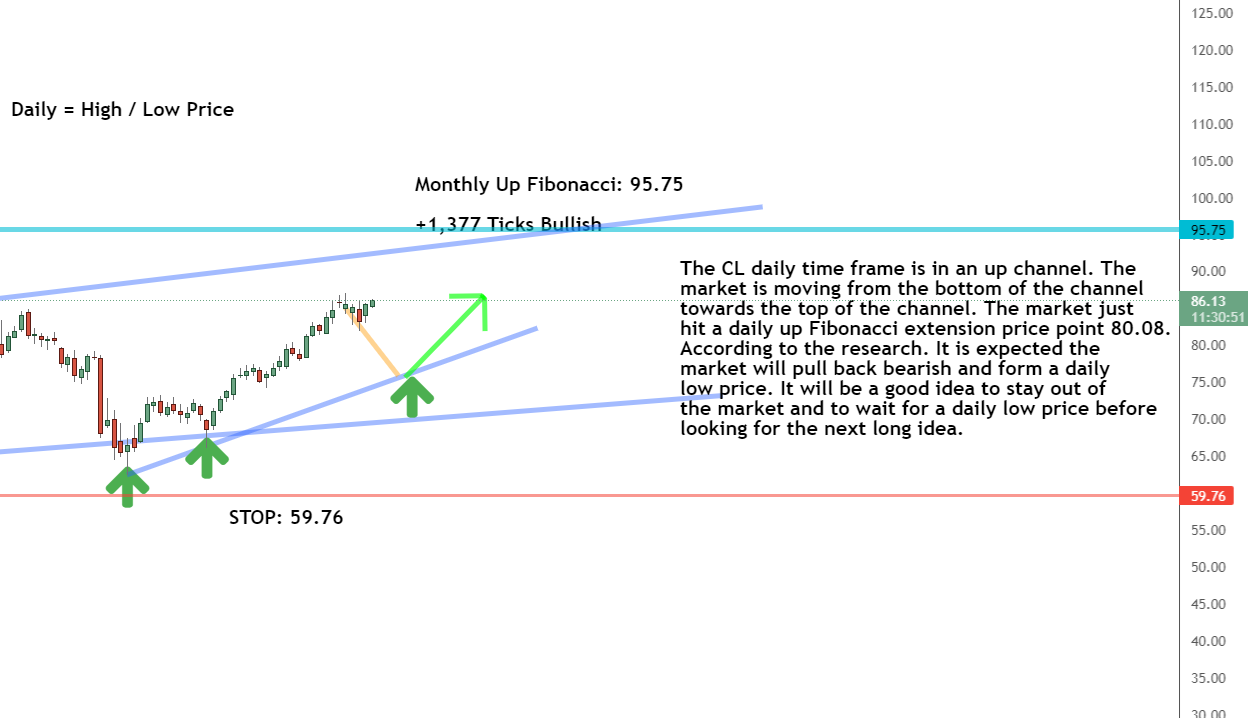 This setup is where understanding the immense value of using trendlines comes in handy. They're one of our most important tools for determining when to buy into a market while minimizing our risk.
For more information about properly drawing trendlines and applying them to your charts, check out this free helpful resource I put together.
The Bottom Line
Many traders are nervous about what's going on in the market right now. And that's ok! That means they're taking things seriously. But there's no reason to panic.

Our timeframe charts help us to see the overall trends developing within the markets. They allow us to see the big picture: the relationship between long-term and short-term direction shifts.

As long as we stick to our strategy, we can be confident that our trading decisions are made with logic, not emotion.

So, be sure to check out all of my resources to help you decide the best way to trade within the futures marketplace!
Keep On Trading,
Mindset Advantage: Acceptance
It's not the market. It's not your indicator. It's TRADING.

Let it go. The first step toward consistent profits comes when you accept the reality that losses will occur. Prices have a mind of their own at times.

The institutions are at the wheel. The sooner you accept this, the more progress you'll make.

Look at the past, but don't stare. Accept what's happened and move on.

Target tighter entries. Get the heck out of those losers you're hanging on to.

Accept. And start to enjoy trading.
Traders Training Session
Stay tuned for my next edition of Josh's Daily Direction.
And if you know someone who'd love to make this a part of their morning routine, send them over to https://joshsdailydirection.com/ to get signed up!