Yesterday was a pretty frustrating day for traders as we saw a major sell-off develop across the market. It doesn't matter what market you traded. If you were trading, you experienced the sell-off at some level.

Today, we're taking a look at gold futures (GC) to see how the sell-off impacted that market. Believe it or not, both the long-term and short-term directions for gold are bullish despite yesterday's dip.

And that's what can sometimes confuse new futures traders. Even during a sell-off, the overall trends for our markets can remain positive. While we see a dip in the short-term, the long-term outlook can remain bullish.
In fact, we can often see a turnaround back to a bullish market the very next day!

Now let's take a look at our timeframe charts to see what's in store for gold.
Daily Timeframe Analysis
We see some interesting movement within the daily timeframe of the GC market. The market tested the low price point of 1772 (purple line), and the price held. The market recovered and continued its upward movement. That means the direction is still up for the daily timeframe.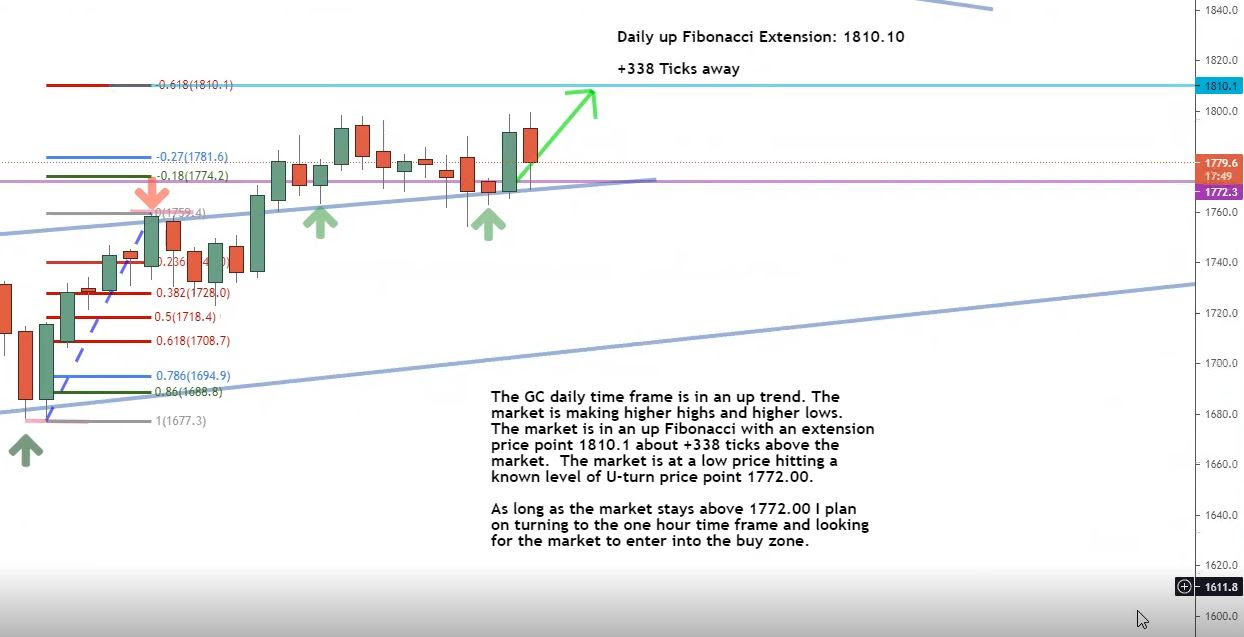 Even though we saw a major sell-off yesterday, the long-term direction of GC is still up, moving bullish toward 1810. This scenario is why it's important to follow your timeline charts even when the overall market has an off day.
One-Hour Timeframe Analysis
Turning to the one-hour timeline, we see that the market gave us a solid U-turn toward the north but then sold off at a significant rate. These market shifts can be really frustrating for traders of all experience levels. You did everything correctly but still lost.

You watched as the price broke the counter trend line toward a bullish run, you bought in at a good price in the buy zone, and you held to your trade plan. But you still lost out. The lesson to learn is: sometimes it happens! The market will do crazy things once in a while, leaving you scratching your head as to what you could have done differently.
The best course of action is to wait for the bullish structure within the one-hour GC timeframe to reform. As you can see in the above chart, we're already seeing the price recovering. We'll keep an eye on the timeframe to make sure we see a solid rebound back toward bullish.
The Bottom Line
Despite the price drop across the board yesterday, the overall outlook for the GC is positive. Both the long-term and short-term directions are up. We'll have to monitor our one-hour timeframe to spot when the bullish structure reforms, then we can discuss entry points within the buy zone once the bullish trend is reestablished.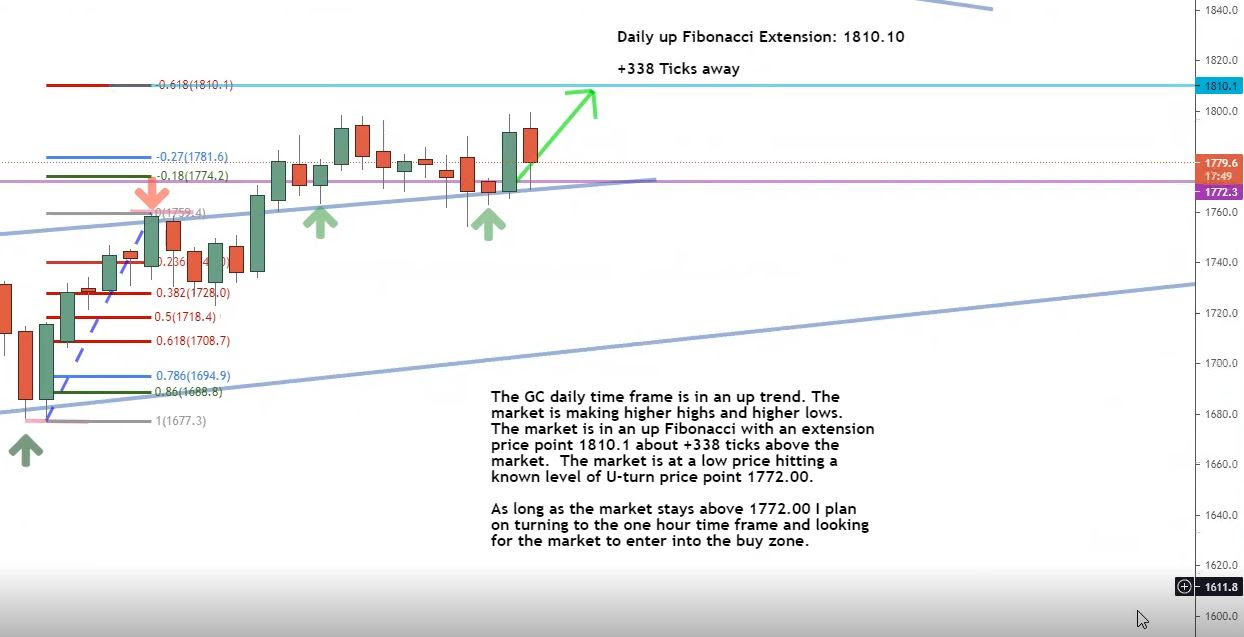 Do you want more information on how I spot these sorts of trades? Be sure to follow me as I show you in-depth information on the futures market and how to implement my strategy in your own trading plan! Or, you can sit on the sidelines and miss out. It's up to you…
Mindset Advantage: Breathe
If you're not breathing, you're not focused. If you're not focused, you can't see the market. Opportunities slide by in an instant. Hazards reveal themselves only when it's too late.

You need to breathe. Breathing exercises have proven to reduce stress and increase focus.

Sure, you're already breathing if you read this. But when you trade… you need a breathing regimen. Whatever it is: Through your nose, out your mouth counting to 10 or 100. Find a method and routine that works for you.

You'll find balance, clarity, and focus when you trade. Your heart rate will come down and you'll just feel better.
Traders Training Session