Good morning, Daily Direction readers!
Today we're watching gold futures (GC) as the market could be pushing through the short-term down trendline. If/when that happens, we'll look for opportunities to trade the market.

With all of the volatility we're seeing in the market, keeping to our strategy is of the utmost importance. Investors are watching the latest headlines, trying to get ahead of the next major shift.

And as the Fed prepares to announce its first interest rate hike in years, you can bet that we'll see some interesting movement in the market.

Let's take a look at the current GC timeframe to see where we stand:
One-Hour Timeframe Analysis
Right now, the market is just below the short-term down trendline in the one-hour time frame.

You can see that the market has retraced down to the bottom of the channel. If the trend holds, the market is likely to bounce back up and push through that trendline.

Once that happens, we'll wait to see if the GC can close above that line. That's our signal that the market is back in the buy zone.

Turning to a 5-minute timeframe would be advantageous to our plan to buy the market as soon it gets in the buy zone. That will allow us to zoom in and find opportunities.
Learn more about the Daily Direction Indicators here…
Our current stop for this setup is in the sell zone, just below the last low.
We'll place our limit at 2114.6, as you can see in the above chart.

So long as the market stays in the buy zone, we'll hunt for opportunities within the GC!

Remember to follow your timeframe charts as the GC continues to move.
The Bottom Line
If the current trend holds, the GC should push through the short-term trendline and back into the buy zone.

When we see that happen, we can then use our short-term timeframe charts to look for a chance to get back into the GC and trade it!

This means we need to pay attention to our charts as the market makes its moves.

And since things are moving pretty quickly, we want to make sure we don't miss out!
Keep On Trading,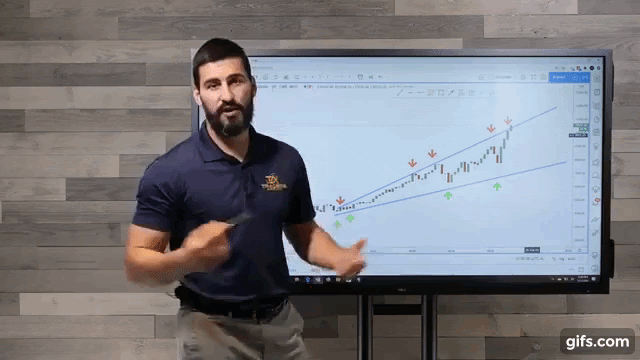 Mindset Advantage: Pace Yourself
You can't make a full-time career in a day, but you can blow it in a minute.

Slow the [insert word of your choice] down! Time and time again, we talk to traders that YOU JUST KNOW are thinking, "I'll never retire at this pace."

What comes next is as predictable as death, taxes, and your mother-in-law's glare. Contracts go from one… to three… then five or more. Stops get pushed back. Losses pile up. More trades take place to cover those losses.

And then it's over. Good night Irene – the account has been cleared.

Just pace yourself. There's plenty of money and plenty of trades to take. Stick to your risk/reward ratio. Hold to those stops.

Take the losers with the winners and become consistent.

Build your empire with time and care!
Traders Training Session
Stay tuned for my next edition of Josh's Daily Direction.
And if you know someone who'd love to make this a part of their morning routine, send them over to https://joshsdailydirection.com/ to get signed up!