Hello, Daily Direction readers!
We've followed the Nasdaq 100 E-mini futures market (NQ) for some time now, waiting for it to turn bullish again.
Based on the current timeframe analysis, the long-term and short-term directions are both up right now.
The market reached the bottom of the channel and is bouncing off of support. This is where we watch the NQ for signs that it's pushing bullish again. When that happens, we'll actively look for opportunities to buy the market.
To learn more about how timeframe charts work when looking for buying opportunities, be sure to check out my bonus material!
Now let's take a look at the timeframe analysis for the Nasdaq 100 E-mini futures market!
Daily Timeframe Analysis
Within the daily timeframe, the NQ has hit the bottom of the current up channel and is preparing to move bullish toward the 17165.75 price point.

Once we see indications that the market is indeed in a bullish push, we'll turn to our one-hour timeframe and look for opportunities to buy the NQ.

Right now, we have the potential to realize a +7,799 tick movement if the NQ continues to push bullish toward our next level of resistance!
Learn more about the Daily Direction Indicators here…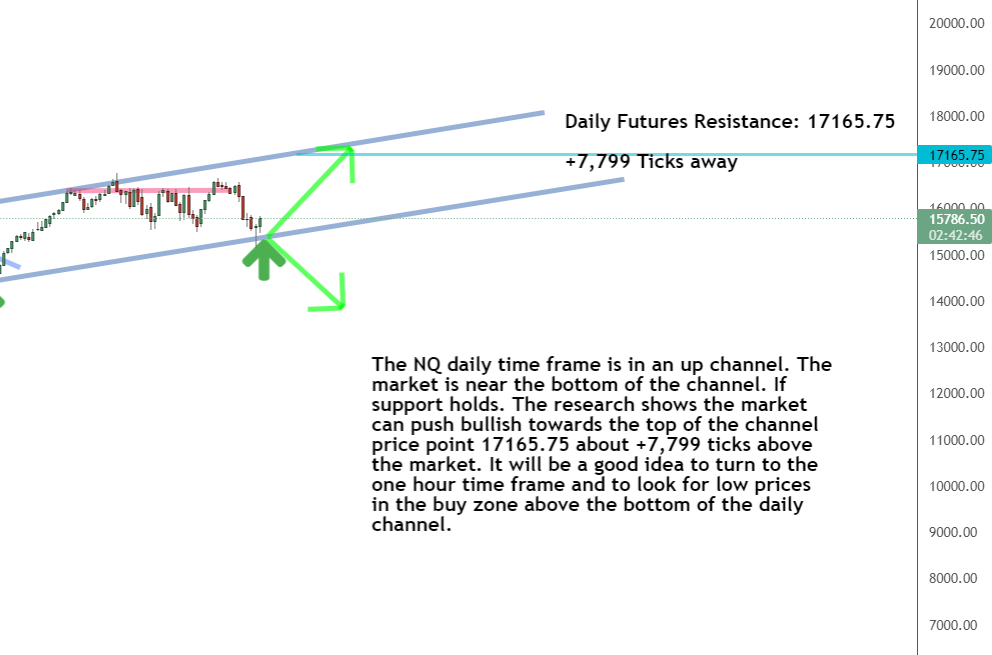 The Bottom Line
We'll watch the NQ closely as it continues to move toward the top of the channel. We'll use our charts to find opportunities to buy the market as it remains bullish.

But we don't want to jump the gun. That's why trendlines are so important in helping us make wise trading decisions!
This is why having a solid timeframe strategy is so important to growing your trading account. Without it, you're taking on a lot of risk within the market.

That's why it's time to start utilizing my knowledge and expertise!
Don't be the one to miss out on this. Follow along as I show you how I find profitable trades within the futures market.
Keep On Trading,
Mindset Advantage: Accept
It's not the market. It's not your indicator. It's TRADING.

Let it go. The first step toward consistent profits comes when you accept the reality that losses will occur.

Prices have a mind of their own at times. The institutions are at the wheel. The sooner you accept this, the more progress you'll make.

Look at the past, but don't stare. Accept what's happened and move on.

Target tighter entries. Get the heck out of those losers you're hanging on to.

Accept. And start to enjoy trading.
Traders Training Session
Stay tuned for my next edition of Josh's Daily Direction.
And if you know someone who'd love to make this a part of their morning routine, send them over to https://joshsdailydirection.com/ to get signed up!