Good morning, Traders!

Sometimes smart trading necessitates patience, and that's exactly what we're doing right now with the E-mini Russell 2000 (RTY). Long- and short-term trends are both positive, but we're waiting for the market to turn bullish.

Waiting for a market to enter a position that allows us to search for opportunities to buy and raise profits can be difficult. However, perseverance pays off.

As a result, adopting a strategy that follows the overall market trend can minimize your chance of losing money. It enables us to identify when the market is in a favorable position to purchase without becoming trapped in a market that is too low.
My trading strategies and ideas will show you how to use patience to trade futures while minimizing risk. While there is no such thing as a method that guarantees all of your trades will be winners, you can definitely utilize my technique to improve your trades and get greater outcomes!
Daily Timeframe Analysis
The RTY is now trading at a low price, as evidenced by the daily timeframe. This indicates that the market could soon rebound and push bullish to a new high price.
The long-term direction is up for the RTY
The short-term direction of the RTY is currently up
We're waiting for a counter trendline break for the RTY

Learn more about the Daily Direction Indicators here…
The direction for the RTY is up. All we're waiting for is a bullish push
Our current Fibonacci extension shows that the market is likely to turn bullish out of the low price and head toward the new upper price limit. We just need to see a counter trendline break to confirm the bullish push. That's where the one-hour timeframe comes in.
One-Hour Timeframe Analysis
When we look at the one-hour timeframe, we can see that the RTY is getting close to that counter trendline. We're waiting for the market to cross that line and enter the buy zone. Once that occurs, we can expect a bullish push toward a new high price.
Once we break the counter trendline, we can expect a bullish push and the chance to trade the RTY
It's crucial to keep in mind that the market moves in waves. As the market makes an overall upward push into the Fibonacci extension, we'll see a lot of highs and lows. We want to take advantage of the market's low price while it is going through the buy zone.
The Bottom Line
The RTY is on the verge of making a bullish move. To validate the start of the bullish trend, we just need to see the counter trendline break. After that, we'll look for a chance to employ our entry strategy inside the one-hour timeframe. Once that happens, we'll be well on our way to trading the Russell 2000 futures market!
We're just waiting for that bullish push in the RTY. Then we'll be ready to trade!
But none of this knowledge is useful unless you employ my futures trading system. So, what do you have to lose? Start trading today so you can progress to more profitable trades and leave the losing trades behind!
Keep On Trading,
Mindset Advantage: Pace Yourself
You can't make a full-time career in a day, but you can blow it in a minute.

Slow the [insert word of your choice] down! Time and time again, we talk to traders that YOU JUST KNOW are thinking…. 'Boy I'll never retire at this pace.'

What comes next is as predictable as death, taxes and your mother-in-law's glare. Contracts go from one… to three… then five or more. Stops get pushed back. Losses pile up. More trades take place to cover those losses.

And then it's over. Good night Irene – the account has been cleared.

Just pace yourself. There's plenty of money and plenty of trades to take. Stick to your risk/reward ratio. Hold to those stops.

Take the losers with the winners and become consistent.
Build your empire with time and care!
Traders Training Session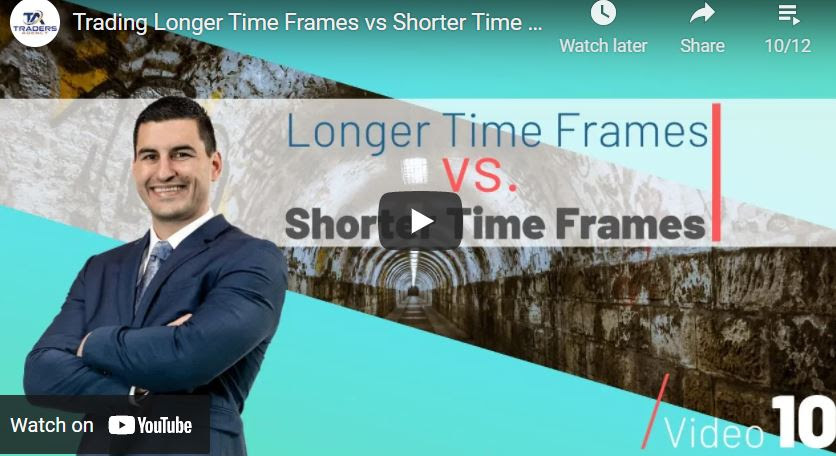 Trading Longer Time Frames vs Shorter Time Frames Tutorial
Stay tuned for my next edition of Josh's Daily Direction.
And if you know someone who'd love to make this a part of their morning routine, send them over to https://joshsdailydirection.com/ to get signed up!