Good morning, Daily Direction readers!
In today's edition, we'll follow the gold futures market (GC) as we actively look for opportunities for smart trades!
Both the long-term and short-term directions are up for the GC. With a daily Fibonacci extension of 2114.6, there's an opportunity for plenty of ticks above the current market.
Investors are still dealing with volatility in the market. And as the headlines continue to make many traders nervous over uncertainty, the gold market stands to make some gains.
When we face this sort of trading environment, the important thing to remember is that you shouldn't let your emotions dictate how you trade. That's a recipe for making money-losing mistakes.
Let's take a closer look at our timeframe analysis to see how we should follow the GC as it moves:
Daily Timeframe Analysis
As you can see in the daily timeframe, the GC market is currently moving along an up channel.
The market pushed above the top of the channel, dipped back down, and should push back up to higher prices again.
Don't forget that the market will make these stair-step moves as it continues on an upward trajectory. Our strategy allows us to find low prices within that overall upward movement so we can buy the market and sell at a higher price.
Currently, our limit for this setup is 2114.6, with a stop at the 1727.6 price point. These tools prevent us from risking too much and overleveraging our accounts.
Learn more about the Daily Direction Indicators here…
Our timeframe analysis is important when it comes to these trades! It allows us to know when we should look to buy or when we should stay away.
Be sure to read more about the details of how my strategy helps traders like you fine-tune their approach to the futures market.
The Bottom Line
While some investors are thinking about staying away from the markets altogether, we're actively looking for opportunities in markets like the GC.
The long-term and short-term directions for the GC point to possible gains in the market for those who pay close attention to the data.
We could see a +1525 tick movement above the current market, if the trend plays out. Following those tick movements is how we increase the chances of making consistent profits in futures trading.
And the data we gather on the markets is best funneled through my timeframe analysis system. Without it, you're left to figure out the details on your own. But I'm here to help!
Keep On Trading,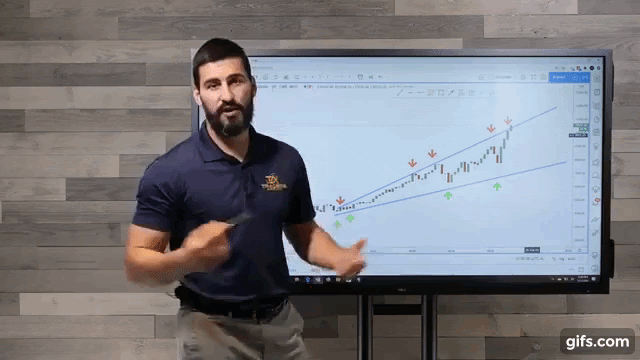 Mindset Advantage: Ignore The Headlines
Put the news in its place – once and for all.

Sure. They're entertaining. They have a lot to say. And yes, they bring you information.

But when it comes to your trading, those talking heads can cost you a lot of money.

It's their job to entertain and retain viewers – not give you the entry or exit you really need, let alone an insight that will provide an advantage.

Let's face it: by the time it's coming out of their mouth, the market has already responded.
So don't let them whip you into a frenzy.

Don't take the information they provide and place a trade on it. Forget those talking heads!
Traders Training Session
Stay tuned for my next edition of Josh's Daily Direction.
And if you know someone who'd love to make this a part of their morning routine, send them over to https://joshsdailydirection.com/ to get signed up!