Good morning, Traders!

We're finally trading the S&P 500 futures market (ES) after staying away for many weeks! I discovered a new up trendline within the daily timeframe. Support held, and the market is pushing bullish toward a new Fibonacci extension of 4553.75. For the short term, we could see a +259 tick bullish push as the S&P looks to be flirting with a new all-time high!
The market is currently trading from support to resistance, with the price breaking through the latest counter trendline as it heads toward the top of the channel.
We'll watch as the market continues to make positive moves. This could be a very profitable trade if the S&P 500 keeps pushing toward new highs. I'm watching my charts to see where the price will end up. Predicting future price movement can be tricky, but I have resources you can utilize to see how it's done. Check them out here!
Now it's time to take a look at our timeframe charts…Daily Timeframe Analysis
The price has bounced off support and is beginning to U-turn upward. And with the current trend, we could see all-time highs for the ES market. That means this is a great opportunity to make profitable trades as the market continues its bullish push.DAILY TIMEFRAME
The direction within the daily timeframe is up for ES
The one-hour timeframe shows an overall positive direction as the market rallies
The ES has reached a known level of U-turn off support and is headed up

Learn more about the Daily Direction Indicators here…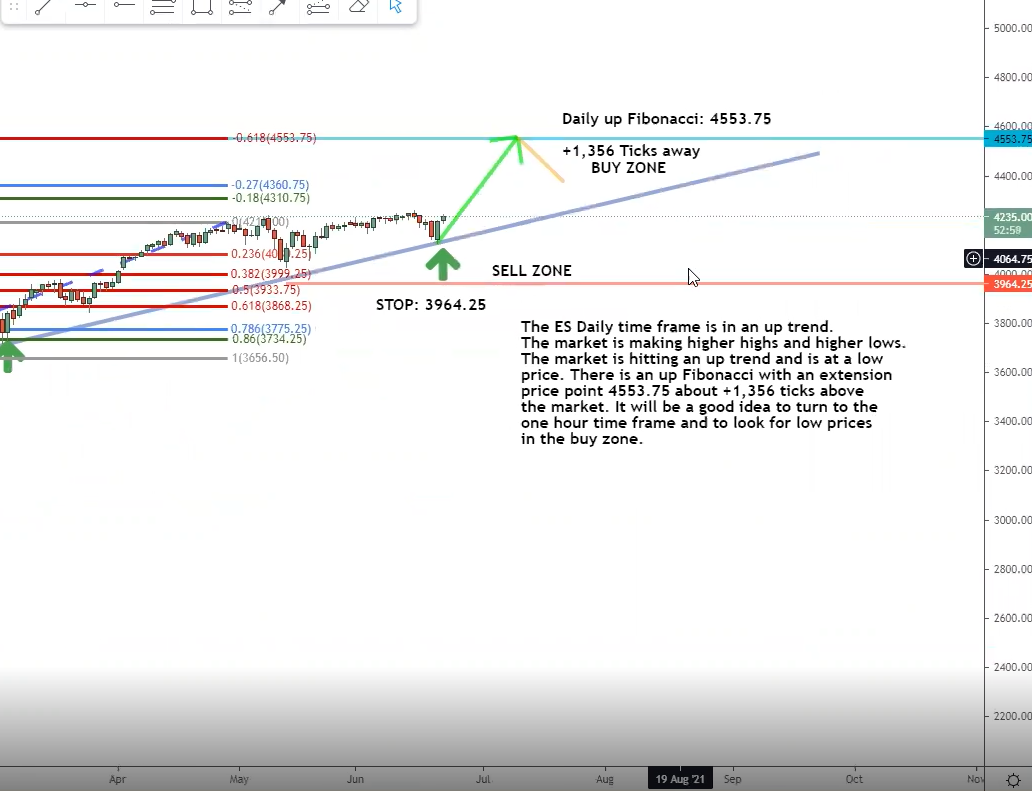 The ES is currently bouncing off support (lower grey line) and making a move toward a higher price (long green arrow. The market is poised to hit a new all-time high.
But before you jump in, be sure to read up on how to properly enter a market when it makes a bullish run. Read my article on executing your entry strategy here if you want to do this the right way!
One-Hour Timeframe Analysis
The ES is doing everything right in the one-hour timeframe as the market moves from the bottom of the channel (bottom grey line) and is headed toward resistance.
The ES has bounced off of support (bottom grey line) and is rallying up toward the new Fibonacci extension (upper blue line). That means we'll see a +259 tick movement
I expect a +259 tick movement within the hourly timeframe as the ES pushes bullish to a new high price.

I know that all this talk about ticks and price movement can get confusing, so let me take a moment to direct your attention to my free resources that explain everything you need to know about reading these charts. You can check them out here.The Bottom Line
We can finally trade the S&P 500 futures market after weeks of waiting! This is a great opportunity to make some serious money as the ES heads to a new high price.
We'll want to watch the one-hour timeframe as the market makes its move toward resistance. Remember that we want to buy at a low price within the buy zone as the market continues to move up.
Take a moment to read more about how to recognize market patterns here before you dive into this trade!This is the information you need to make the right decisions when it comes to trading futures. I've spent years developing my system, and you don't want to miss out on what I have to offer.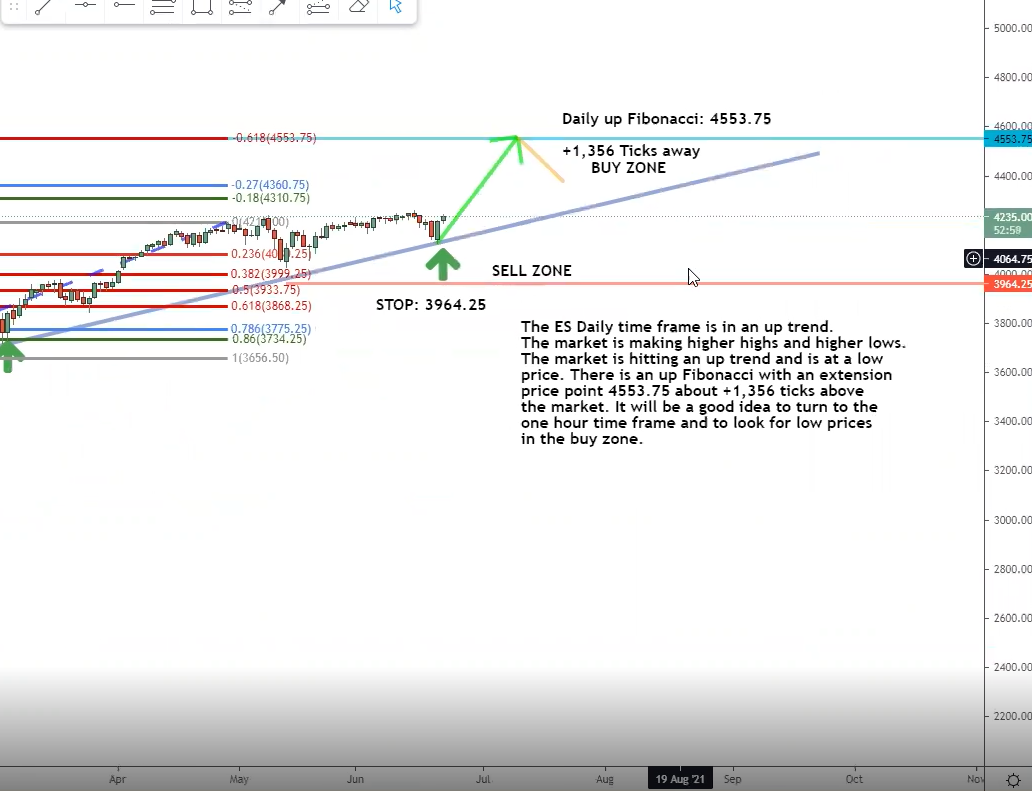 We're finally ready to trade the S&P 500 futures market after waiting so long!
But don't jump in all alone. I'm here to help you realize your money-making potential in futures trading. Leverage my knowledge for your own gain. Just follow along as I reveal the crucial aspects of my trading strategy that will allow you to become a profitable futures trader!
Keep On Trading,
Mindset Advantage: Burn Your Baggage
You carry it around like George Clooney, in that movie 'Up in the Air'.

The impossible weight of life and trading – all in one backpack.

Why not unburden yourself?

Don't just set the baggage aside.

Get rid of it all together.

It can't weigh you down if it's not there to pick up again.

This goes especially for trading.

Learn from the losses, the bad entries, and the late exits.

Then get rid of them.
Burn that baggage.Traders Training Session
What are future contract sizes?