Good morning, Daily Direction readers!
Thanks to everything that's happening in the world right now, light crude oil futures (CL) are hitting our price limit.

With the current situation in Eastern Europe, there's a lot of concern about the global oil supply. That's why the price is so high. And while the latest news is certainly concerning, we should stay focused on the market data.

And based on the latest timeframe analysis, we're out of the CL for the moment.

Whenever a market hits our price limit, we like to take a step back and look at the data. If we try to buy while the price is this high, we risk losing out when the market turns bearish.

And according to the analysis, we expect the CL market to push bearish down toward the bottom of the channel.

But before we jump into the analysis for today, I wanted to make sure you checked out an awesome opportunity from my friend Anthony Speciale. If you're looking for a way to make your trading more consistent, you need to see what Anthony is up to!

Now, let's look at our timeframe analysis to learn more:
Daily Timeframe Analysis
According to the daily timeframe analysis for the CL, the market has pushed past our current limit of 95.75 as the market continues to sit at the top of the channel.

While the long-term direction is up for oil futures, the analysis shows the market eventually turning bearish and pushing down toward the bottom of the channel.

That means it would be wise to stay out of the CL until we get a lower price. Once that happens, we can jump back into the market and use our trading strategy to find buying opportunities.
Learn more about the Daily Direction Indicators here…
Even though we're out of the CL right now, we'll still want to watch the timeframes for this market.

Things are moving pretty quickly right now, so we need to make sure we don't miss any price movements in the CL.

Don't let the current news cycle scare you. Stick to the data and watch your charts!
As soon as we see a bearish push, we'll look for signs of the market U-turning back up. That's our signal to execute our buy-in strategy for the CL!
The Bottom Line
We're out of the CL right now since the market is pushing right up to the top of the channel and our price limit.

But we'll keep reviewing our timeframe charts for signs of a bearish push. That's because we don't want to miss the chance to get back in the market when lower prices hit.

Right now, use the extra time to study your timeline charts and learn more about how to implement your trading strategy.
Keep On Trading,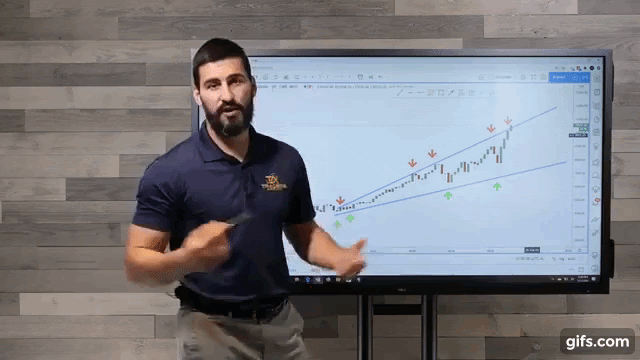 Mindset Advantage: Pace Yourself
You can't make a full-time career in a day, but you can blow it in a minute.

Slow the [insert word of your choice] down! Time and time again, we talk to traders that YOU JUST KNOW are thinking, "I'll never retire at this pace."

What comes next is as predictable as death, taxes, and your mother-in-law's glare. Contracts go from one… to three… then five or more. Stops get pushed back. Losses pile up. More trades take place to cover those losses.

And then it's over. Good night Irene – the account has been cleared.

Just pace yourself. There's plenty of money and plenty of trades to take. Stick to your risk/reward ratio. Hold to those stops.

Take the losers with the winners and become consistent.

Build your empire with time and care!
Traders Training Session
Stay tuned for my next edition of Josh's Daily Direction.
And if you know someone who'd love to make this a part of their morning routine, send them over to https://joshsdailydirection.com/ to get signed up!