While everyone else ignored gold, I told you to keep an eye on gold futures for a chance at a winning trade.

Well, we're back to looking at gold for another opportunity to buy as the GC market is setting up for another rally.

The long-term direction is up while the short-term is up as well, but the price is just too high to buy right now. But if the one-hour timeframe breaks the counter trend line, we'll be ready to buy GC again!
Now it's time to take a look at our timeframe analysis for the GC…
Daily Timeframe Analysis
The daily timeframe shows us that the overall direction for the GC is up. We've seen a solid rally for gold futures over the last few days, just as I predicted.
The GC price has steadily headed north, with the market breaking through the top of the channel and rallying bullish to a new high price. The daily Fibonacci extension has been fulfilled, meaning the bullish structure is fully formed and holding steady.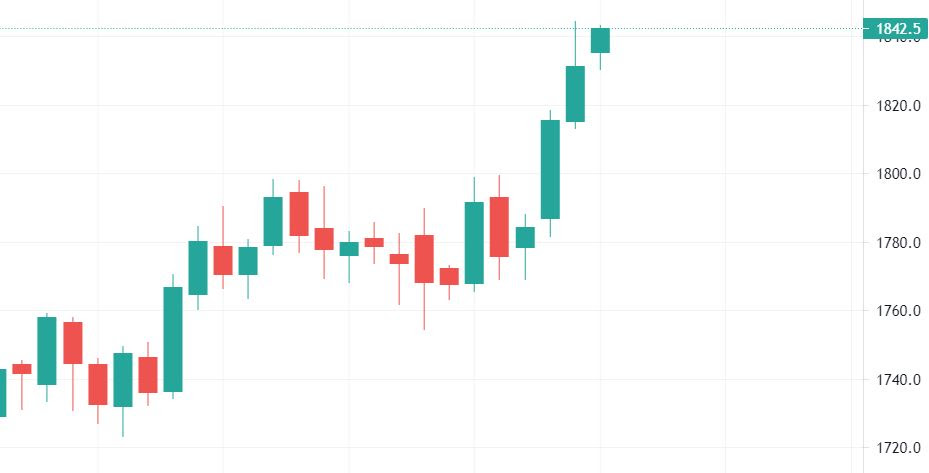 The GC daily timeframe shows overall up direction as the rally continues.
Now it's time to turn to the one-hour timeframe and confirm our buy-in strategy!
One-Hour Timeframe Analysis
In the one-hour timeframe chart, the current price is just too high to buy-in. We need to wait for a Fibonacci retracement (the price will come down) and watch as the market breaks through a counter trend line so we can find an opportunity to buy (diagonal grey line at the top.)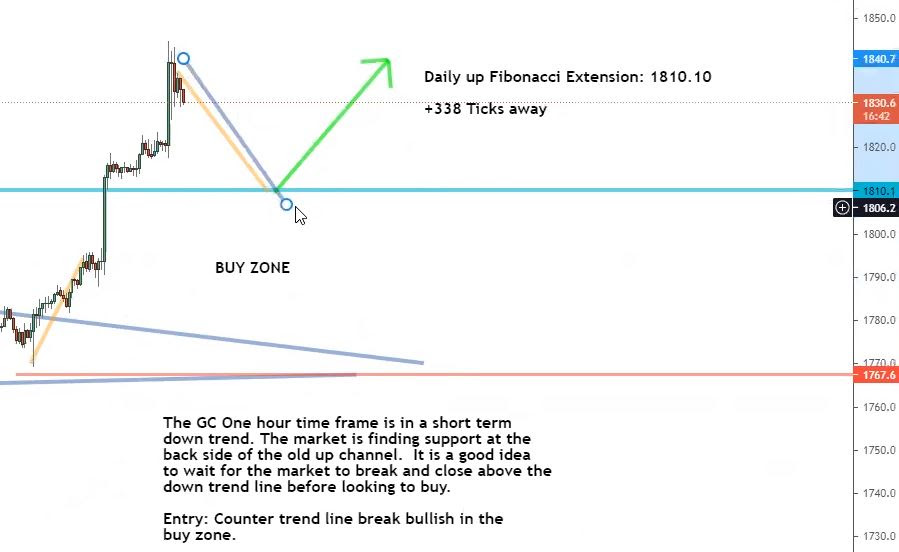 The GC one-hour time frame reveals that the price is too high to buy right now, but we'll follow a retracement until the price is right! Once it falls and breaks through the counter trend line (diagonal grey line at the top), we'll see a new rally develop (long green arrow).
So while the price is a bit high right now, we expect it to dip down long enough to give us an opportunity to buy in before it rallies again.
This is why looking at your various timelines is so crucial when putting together a trading strategy!
The Bottom Line
The current short-term and long-term direction for the GC market is up, though the price within the one-hour timeframe is a bit high right now.
While we don't want to trade at such a high price, we expect a dip to occur that will allow us to buy-in. But since the overall direction is up, we expect the rally to continue, setting us up with opportunities to buy the GC market. Don't forget that the market trades in waves and we look for these waves as a way to get in and make money!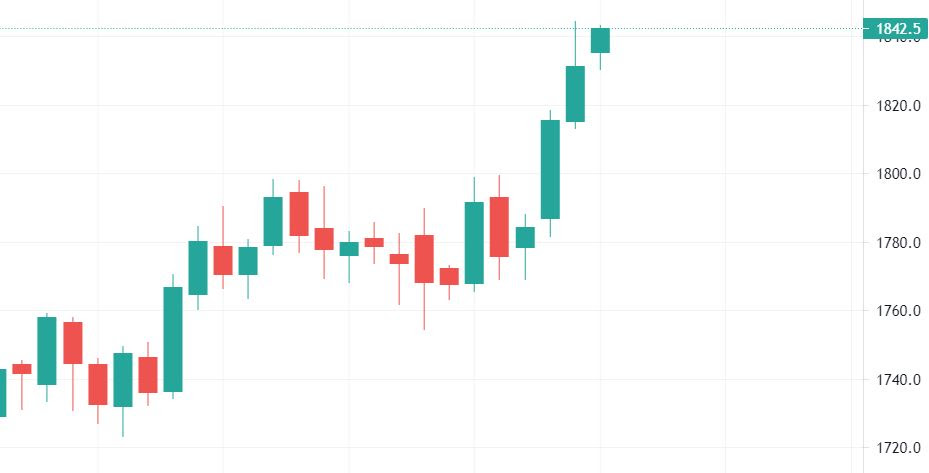 The overall direction for the GC is up!I'm keeping an eye on this, and so should you. If you want to learn more about how to get into this opportunity, be sure to follow me as I set up my trades and watch the prices rise!

Mindset Advantage: Move!
Motion creates emotion – and helps you manage it!

There's a direct relationship between vigorous exercise, and stress management.

How many times have you found yourself sitting… staring at your screen… instantly realizing that you've been sitting there for hours? Riding out that position? Fretting over an exit or even a loss?

Get up! Move around! Go for a walk. Motion creates focus. Focus creates positive energy and clarity!

Better yet, add an exercise element to your trading routine! Your health and your account will thank you!

Traders Training Session